Eleanor Avril Wins The Norman K. Meyrowitz '81 Award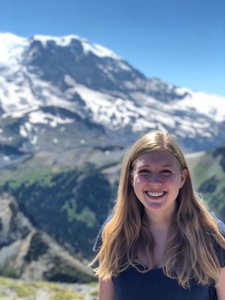 Click the links that follow for more news about Eleanor Avril, Norm Meyrowitz, and other recent accomplishments by our students.
Brown University's Department of Computer Science has just announced that Eleanor Avril, a Brown CS student and one of the four Meta-TAs who coordinate the Undergraduate Teaching Assistant program, has just won the Norman K. Meyrowitz '81 Award. Named for an alum known for his contributions to the department, the award recognizes exceptionally meritorious service to Brown CS and is accompanied by a cash prize of five hundred dollars.
"We are delighted to say that it is warranted this year," says Brown CS Professor Tom Doeppner, Vice Chair and Director of Undergraduate Studies, "for Eleanor's dependable eagerness to help out in any situation, and for doing so ever so competently and cheerfully."
Norm Meyrowitz feels similarly. "It was an honor to have this award named after me years ago in the Triassic period of CS," he says, "and it is even more of an honor to have someone as deserving as Eleanor receive it."
For more information, click the link that follows to contact Brown CS Communication Outreach Specialist Jesse C. Polhemus.