Brown CS Student Liyaan Maskati Wins The Association For Women In Mathematics Student Essay Contest For Writing About Ellie Pavlick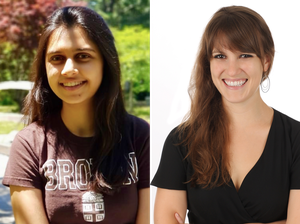 Click the links that follow for more news about our award-winning students or Ellie Pavlick.
"There are a lot of aspects of language that are really complex and humans are really good at picking up on those nuances, and machines are really not," says Brown CS Professor Ellie Pavlick. "I love working on [something] so fundamentally human and so complex."
In a recent essay, ("Nothing Ventured, Nothing Gained") undergraduate Liyaan Maskati interviews Ellie about the complexities and nuances of Pavlick's entry into computer science, diverse interests, and even the relationship between music and math. It's a wide-ranging piece that she organizes thematically, opening each section with the literal and figurative definitions of various international proverbs, and it won her First Place in the Undergraduate category of the Association for Women In Mathematics (AWM) Student Essay Contest.
To increase awareness of women's ongoing contributions to the mathematical sciences, AWM and Math for America co-sponsor an essay contest for biographies of contemporary women mathematicians and statisticians in academic, industrial, and government careers. This year, they received 307 entries across the three categories (Grades 6-8, Grades 9-12, and Undergraduate) from 46 states, the District of Columbia, and three other countries. 
A full list of winners is available here.
For more information, click the link that follows to contact Brown CS Communication Outreach Specialist Jesse C. Polhemus.