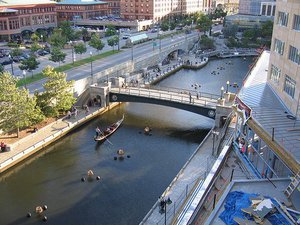 Providence is a city known for its great quality of life, cultural attractions, and (you guessed our favorite) food. Click the links below to learn more about why we love calling Providence home!
Travel And Leisure And Conde Nast Rank T.F. Green Airport As One Of The Nation's Best
Bon Appetit Has Named Providence's Oberlin One Of The Top Ten Best New Restaurants
Parade Names Providence The Best Kept Secret On The East Coast
Travel And Leisure Names Providence The Third Most Charming City In America
Providence's RISD Museum Tops Architectural Digest's List Of America's Best University Art Museums
Travel And Leisure Calls Providence America's Third Favorite City And Second Best For Food
Brown CS Is Within An Hour's Drive Of One Of The USA's Best Beaches
NYT Ranks Providence With Global Peers As A "Place To Go In 2016"
Providence Declared Best City To Raise Kids In America
DataFox Lists Providence As One Of 2015's Best Cities To Found A Startup Outside Of Silicon Valley And New York 
GQ Raves About Providence: "The Coolest City"
Providence Ranked America's Eighth Best College Town For People Who Aren't In College