Brown CS Returns To The Grace Hopper Celebration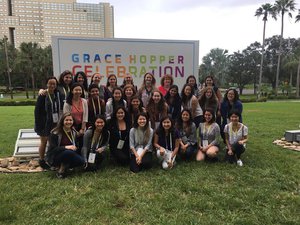 Click the links that follow for more Brown CS content about diversity and inclusion at Brown CS and the Grace Hopper Celebration.
A delegation from Brown University's Department of Computer Science (Brown CS) has had a busy week at the Grace Hopper Celebration (GHC), an annual event that's become the world's largest gathering of women technologists. The conference was started in 1994 by Anita Borg and Telle Whitney as a forum to highlight the contributions of women in computing both in academia and industry, but its main aim is helping young women find a place in the field of CS.
Over the years, Brown CS participants have described the conference as a source of inspiration and resources as they try to close the gender gap, and this year was no different. Attendees have had a busy schedule: the week started with keynotes from speakers such as Melinda Gates and Fei-Fei Li, Professor and Director of Stanford University's AI Lab and Chief Scientist at Google Cloud AI/ML, and has continued with workshops and talks on topics ranging from Community and Career to Artificial Intelligence and Data Science. This year, Brown CS alum Karen Catlin was an invited speaker, leading a special session about negotiating skills ("Learn to Negotiate And Stop Holding Yourself Back").
It's clearly been another successful GHC, and our community members have been delighted with the interest from women who want to learn more about studying CS at Brown and our work creating a diverse and inclusive environment in which all students, faculty, and staff can thrive. Reporting from the Brown CS booth, Lauren Clarke (Manager, Academic and IP Programs) says that visits from prospective students are at a record high. 
For more information, please contact Brown CS Communication Outreach Specialist Jesse C. Polhemus.