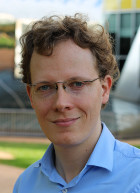 Malte Schwarzkopf
Assistant Professor
Systems, Database, and CAPS Groups
Computer Science Department, Brown University
malte@cs.brown.edu
CIT 525
I'm interested in computer systems, especially distributed systems, operating systems, and privacy-preserving systems.
Recent projects include Noria, a new streaming dataflow system, and Conclave, a query compiler for secure multi-party computation. I've also built several cluster schedulers (Omega, Firmament, and Decima).
In Spring 2020, I'm teaching CSCI 1310: Fundamentals of Computer Systems.
Publications [all]
GDPR Compliance by Construction
Malte Schwarzkopf, Eddie Kohler, M. Frans Kaashoek, Robert Morris
Poly 2019 workshop at VLDB 2019

Learning Scheduling Algorithms for Data Processing Clusters [ACM] [arXiv:1810.01963] [website]
Hongzi Mao, Malte Schwarzkopf, Shaileshh Bojja Venkatakrishnan, Zili Meng, Mohammad Alizadeh
SIGCOMM 2019 – (See also our related ICLR'19 paper on reducing variance in training!)

Towards Multiverse Databases [ACM]
Alana Marzoev, Lara Timbó Araújo, Malte Schwarzkopf, Samyukta Yagati, Eddie Kohler, Robert Morris, M. Frans Kaashoek, Sam Madden
HotOS 2019

Conclave: secure multi-party computation on big data [ACM] [extended TR (with proofs)] [code]
Nikolaj Volgushev, Malte Schwarzkopf, Ben Getchell, Andrei Lapets, Mayank Varia, Azer Bestavros
EuroSys 2019

Noria: dynamic, partially-stateful data-flow for high-performance web applications [usenix] [website] [code]
Jon Gjengset, Malte Schwarzkopf, Jonathan Behrens, Lara Timbó Araújo, Martin Ek, Eddie Kohler, M. Frans Kaashoek, Robert Morris
OSDI 2018

Firmament: fast, centralized cluster scheduling at scale [usenix] [web] [code] – Now available for Kubernetes!
Ionel Gog, Malte Schwarzkopf, Adam Gleave, Robert N. M. Watson, Steven Hand
OSDI 2016

Queues don't matter when you can

JUMP

them! [usenix] [website]
Matthew P. Grosvenor, Malte Schwarzkopf, Ionel Gog, Robert N. M. Watson, Andrew W. Moore, Steven Hand, Jon Crowcroft
NSDI 2015

Best paper award



Musketeer: all for one, one for all in data processing systems [ACM] [website] [code]
Ionel Gog, Malte Schwarzkopf, Natacha Crooks, Matthew P. Grosvenor, Allen Clement, Steven Hand
EuroSys 2015

Omega: flexible, scalable schedulers for large compute clusters
Malte Schwarzkopf, Andy Konwinski, Michael Abd-El-Malek, John Wilkes
EuroSys 2013

Best student paper award



The seven deadly sins of cloud computing research
Malte Schwarzkopf, Derek G. Murray, Steven Hand
HotCloud 2012


Ciel

: a universal execution engine for distributed data-flow computing
Derek G. Murray, Malte Schwarzkopf, Christopher Smowton, Steven Smith, Anil Madhavapeddy, Steven Hand
NSDI 2011

Students
Classes
Personal
Before joining Brown, I was a postdoc in the PDOS group at MIT CSAIL. Prior to MIT, I spent several enjoyable years doing my PhD in the NetOS group in the other Cambridge.
You can find me on Twitter and GitHub. My wife, Julia Netter, is a political philosopher.