Moi
I was born, raised, and educated in Bangalore, India. I spent most of this time in Basvanagudi, and got to know every little corner of the Lalbagh. I've lived on three distinct continents, but this includes a Subcontinent, a significant Peninsula, and a notable Island, so I think this adds up to about three-and-two-thirds. In North America, I've enjoyed the hospitality of both the USA and Texas. Somewhat disturbingly, I've made home near three different water bodies legendary for catching or being set on fire. I am a member of that very rare species, the vegetarian foodie.
You can find me on various social media.
Writing
I used to have a blog. Then I didn't have a blog. Now I don't have a "blog" but I do have a place where I post what I write. Meanwhile, I used to post on Google Plus and Facebook but now I use Twitter instead.
I also enjoy reading, and used to write book reviews. My older ones are here. The newer ones were hashtag in my Google+ posts but you can't see them any more.
Sports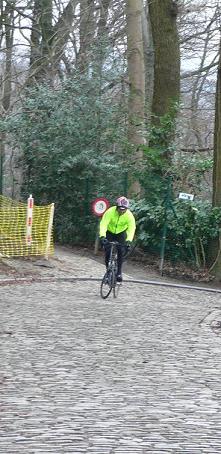 Kapelmuur
, March 2006
(photo by Kathi Fisler)
Like most Indians, I grew up crazy about cricket. My father loved it too, so it was easy to get hooked. I've watched some dramatic—and, yes, I confess, some rather tedious—play at Bangalore's KSCA stadium. In the US I've followed baseball as the next best thing, but I find it coarse, lacking cricket's subtlety, and thus only a tepid substitute.
To a first approximation, I enjoy playing all sports that involve linear objects hitting spherical ones (cricket, tennis, racketball, etc.). But these invariably involve scheduling with anywhere from one to twenty-one other people, which is beyond my organizational abilities.
While I was still seeking out something I could "play" regularly, a rental bicycle in San Francisco taught me that Lance Armstrong was wrong: sometimes it could be about the bike. Because I was already addicted to watching road racing, I bought my first road bike, a Specialized Sequoia, which was electrifying.
In April 2005 I went a step further, buying a Bike Friday Pocket Rocket Pro: a folding road-bike that fits in a regulation airline suitcase. (If you have questions about it, feel free to write me.) It's an odd and, admittedly, awkward looking contrivance, though it's all the better at fooling people into not taking it seriously.

L'Alpe d'Huez
, July 2005
(photo by Kathi Fisler; thanks to Géraldine Morin and Henrik Weimer)
My Bike Friday has let me explore many wonderful places in six US states and six countries: riding across the Mississippi, through Flanders, and upon some of the cobbled sectors of Paris-Roubaix. Though I don't have the ideal physique for it, my real pleasure is steep uphill rides. I've tackled Greylock and other climbs in the northern Berkshires of Massachusetts, the Muur van Geraardsbergen, the Col de Porte (in the Chartreuse), Sierra Road, the Col de la Madone and, in the single most delightful day of my sporting life, L'Alpe d'Huez. I dream of many more.
The Bike Friday is lovely, but it made me miss the feel of an aggressive road bike. After our daughter was born, I realized my travels were going to be a great deal more limited. In July 2009, I therefore bought a Felt F3 SL and relegated the Bike Friday to backup duty.
It changes your relationship. When you see your advisor in spandex every day, it's hard to take him as seriously.
—Jay McCarthy, overheard
Travel
I'd like to visit many of the UNESCO World Heritage sites. Most of the ones I've visited are stellar, though a few have been disappointments: clearly testament more to their country's political clout than to their intrinsic value.
Other places I would like to visit someday: Çatalhöyük on the Anatolian peninsula, Antarctica, The Ice Hotel in Jukkasjärvi, the Lightning Field of New Mexico, the Jules Verne Hotel in Florida, and the Cafe Engel in Helsinki.
I'd like to see Olympus Mons up close in person.
People
Some people are not electrically neutral.
uniquely lara has an oustanding and growing collection of art, while my dear childhood friend Al has some wonderful nature photographs (sorry about the annoying splash-screen).