Vote Lisp Machine in '96!
Because today is the car of the cdr of your life.
This page is sponsored by XELM,
The Committee to Help Elect the Lisp Machine.
Campaign Button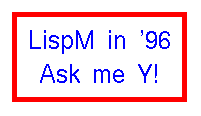 Download and wear it today!
Issues
The Lisp Machine has retired from active duty to concentrate on its election bid. Here are some reasons why you should consider casting your vote for the Lisp Machine:
Having worked in both corporate offices and in academic settings, the Lisp Machine understands the opinions and feelings of both the car and the cdr--er, the Left and the Right.

Better than most, the Lisp Machine is supremely placed to empathize with the unemployed and destitute.

The Lisp Machine is no light-weight, and when it works, its intensity and fervour can warm the coldest hearts (and feet, and offices).

The Lisp Machine has experience working the numbers, and promises to balance the deficit and pay off the debt. (Indeed, it is one of the few candidates that can even compute the debt!)

While other candidates merely talk about safety, the Lisp Machine implements safety ... especially type- and space-safety.

With the Lisp Machine in office, our streets will be clean: garbage collection will no longer be an issue.

The Lisp Machine speaks CommonLisp, ZetaLisp, Scheme, and a variety of other languages; likewise, it can communicate via numerous networks. Which other candidate can show such broad credentials and such a commitment to diversity?

The Lisp Machine proposes novel prison reforms: violent criminals will be released only after they have evaluated Omega. It is believed that this program will also endow prisoners with valuable technical skills when they emerge.

The lack of motorization for the wheels of the Lisp Machine demonstrate its preference for finding energy-efficient solutions to modern problems of transportation.

In times of both strife and glory, Americans look for presidential behavior in their top leader. Who can better the Lisp Machine at symbolic processes?

The Lisp Machine is proud to be American. This is why it is a Lisp machine, rather than a Prolog machine or a Pascal machine.

The lambda is given pride-of-place to show the Lisp Machine's commitment to equal protection and rights to all Americans, regardless of their sexual orientation.

The Lisp Machine is firmly committed to a strong set of family values. This is evident from the fact that its family, Lisp, thinks of everything as having a value.
Vice-President
The Committee notes that Gen. Colin Powell is yet to deny rumors that he wishes to be the Lisp Machine's running mate.
Campaign Doggerel

Let hackers and wireheads grovel and curse,
    Chase pointers and seg fault in C;
Our LispM shall never fandango on core --
    Content with hard CDR are we!

Volunteers
XELM also includes Jeremy Buhler, Kathi Fisler, Chris Hyams and Phil Schielke.