Plate 2: Two Colors Appear As One

The object of this excercise is to have two different colors on different backgrounds appear as one color. The foreground colors are A and B, they are placed on backgrounds C and D. The object is to get A and B look like they are the same color. This is another form of color deception where you will begin to notice that a orange grey on a blue background will look like a blue grey on a orange background. The background is influencing the color swatch in this excercise.
---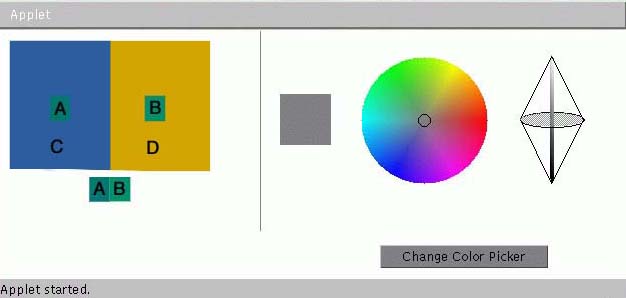 This exercise of trying to make two colors appear as one can be explored in the following applet. You will be able to use the HSL color chooser and the RGB color chooser to pick colors for the rectangles. Once you have made your selection, click on the rectangle whose color you want changed and it will change to the color you have selected.
Note you may need to resize your browser window, this applet is quite large.
---
| | | | | |
| --- | --- | --- | --- | --- |
| | Plate 1 applet | | Plate 2 applet | |