MathPad2: A System for the Creation and Exploration of Mathematical Sketches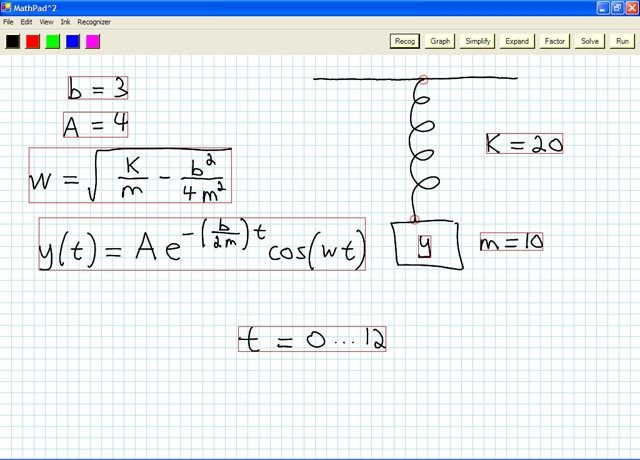 MathPad2 is a prototype Tablet PC application for mathematical problem solving. At the core of its functionality is the novel concept of mathematical sketching, making dynamic illustrations by combining handwritten mathematics and free-form diagrams. MathPad2 is designed so a user can create simple illustrations as if they were working with pencil and paper. Teachers can use MathPad2 to quickly create illustrations to be used in their lessons and students can use the application to aid in their studies.
As examples, the screenshot above shows a mathematical sketch for a damped harmonic oscillator. The handwritten mathematics is associated to the drawing using a simple gestural user interface. The diagram will animate according to this mathematical specification. Users can also change system parameters to see how the oscillator is affected under various conditions. The screenshot below shows MathPad2's graphing capability. Users can simply write down mathematical expressions and graph them using a simple line gesture.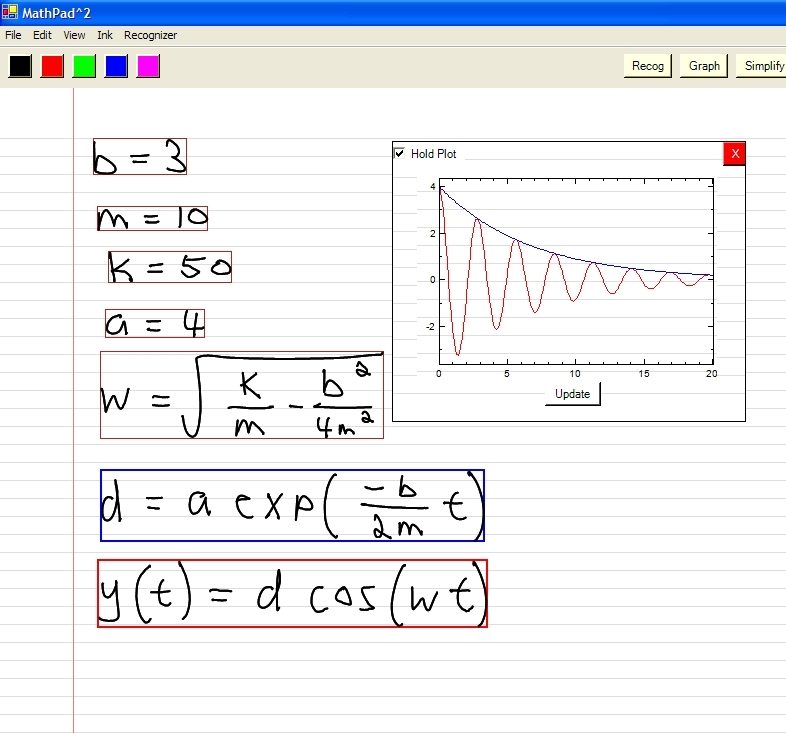 MathPad2 is still in its infancy and we are continuing to explore a number of different research areas such as more sophisticated mathematical expression recognition, parsing, and error correction, better gestural user interfaces for linking diagrams to math, diagram labeling, and, higher levels of interactivity.
Publications
LaViola, J. "Advances in Mathematical Sketching: Moving Toward the Paradigm's Full Potential", IEEE Computer Graphics and Applications, 27(1):38-48, January/February 2007.

LaViola, J. "An Initial Evaluation of a Pen-Based Tool for Creating Dynamic Mathematical Illustrations", In the Proceedings of the Eurographics Workshop on Sketch-Based Interfaces and Modeling 2006, 157-164, September 2006.

LaViola, J. "Mathematical Sketching: A New Approach to Creating and Exploring Dynamic Illustrations", Ph.D. Dissertation, Brown University, Department of Computer Science, May 2005.

LaViola, J. and Zeleznik, R. "MathPad2: A System for the Creation and Exploration of Mathematical Sketches", ACM Transactions on Graphics (Proceedings of SIGGRAPH 2004), 23(3):432-440, August 2004. (Download a video of MathPad2 in action.)

Popular Press
MathPad2 has been featured in a number of articles including

Information Week - August 9, 2004.

ZDNet UK - March 3, 2004.

PC World - October 29, 2003.

Featured Presentations
MathPad2 has also been shown in presentations given by

Bill Gates at the 2004 Microsoft Financial Analyst Meeting - July 29, 2004.

Rick Rashid at the 2003 Microsoft Professional Developers Conference - October 29, 2003.

---
Joseph LaViola Last modified: Thu Sep 7 00:45:04 EDT 2006