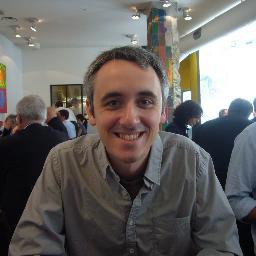 Jeff Rasley
Email: jeffra / cs brown edu
Twitter: @jeffra45
Office: 339 CIT

115 Waterman Street
Computer Science Department
Brown University
Providence, RI 02912

I am a Ph.D. candidate advised by Rodrigo Fonseca, primarily interested in networks, distributed systems, and security. I am supported by an NSF Graduate Research Fellowship.

I completed my undergrad at the University of Washington where I studied computer science. During my time at UW I primarily worked with Justin Cappos on topics related to sandbox security and API Write-Once-Run-Anywhere verification.

I also worked on the GENI supported peer-to-peer testbed called Seattle.
More details can be found in my CV.
News
2016-01: Our work with Microsoft CISL and MSR on queue management for cluster schedulers was accepted to EuroSys 2016!
2015-10: Giving a talk on queue management in cluster schedulers at the 2nd annual New England Networking and Systems Day.
2015-10: Thanks to the generosity of the NSF and SwitchOn I will be attending the SwitchOn Workshop in São Paulo which aims to foster collaborations between the U.S. and Brazil.
2015-09: I was elected to fill the Faculty-Graduate Liaison (FGL) position in my department!
2015-02: Thanks to ACM SIGCOMM and others for a travel grant to attend the 5th PhD School on Traffic Monitoring and Analysis in Barcelona.
2015-01: I will be spending the summer as a Microsoft Research Intern at the Cloud and Information Services Lab (CISL) in Mountain View, CA. I will be working with Konstantinos Karanasos, Sriram Rao, and Srikanth Kandula on some interesting topics related to scheduling in large shared compute clusters.
2014-12: As part of CS Education Week, I will be again visiting Nathan Bishop Middle School to help students with an "Hour of Code".
2014-11: I will be a graduate TA for Distributed Computer Systems taught by Tom Doeppner and Rodrigo Fonseca in the Spring '15 semester.
2014-11: Giving an invited talk at UBC about our low-latency network monitoring work. Plus attending IMC '14 via a generous travel grant.
2014-10: Presenting a poster on low-latency network monitoring at the first annual New England Networking and Systems Day at the Hariri Institute at Boston University.
2014-04: Our work on low-latency network monitoring will be appearing at SIGCOMM '14!
2014-04: Presenting a poster on low-latency network monitoring at NSDI '14 via a generous travel grant from USENIX.
2014-03: Poster judge at NEUCS '14.
2014-03: I will be spending the summer at VMware in the NSX (i.e., Nicira) group.
2014-02: I will be presenting our paper "Low-latency Network Monitoring via Oversubscribed Port Mirroring" at the Open Networking Summit's Research Track.
2013-12: Visiting Nathan Bishop Middle School to help students with an Hour of Code.
2013-09: Attending IMC '13 via a generous travel grant by the NSF.
2013-06: NSF Graduate Research Fellowship Awardee (2013), Brown blog post
2013-04: Poster judge at NEUCS '13 . Sadly, the event was canceled.
2013-03: I will be at IBM Research in Austin working with Colin Dixon and Eric Rozner this summer.

More...
Current Research
Low-latency Network Monitor and Control Methods
Software-defined networking
introduces the possibility of building self-tuning networks that constantly monitor network conditions and react rapidly to important events such as network congestion. Unfortunately, state-of-the-art monitoring mechanisms for conventional networks require hundreds of milliseconds to seconds to extract global network state like global link utilization or the identity of "elephant" flows. My work in this area looks at improved techniques for measuring and controlling high-speed 10GbE or higher data center networks. This is ongoing work with my colleagues at IBM Research and Brown.
Network Impact of DISC Frameworks
Data Intensive Scalable Compute (DISC) frameworks such as
Hadoop
and
Spark
are becoming increasingly important tools for many institutions. Inherently the network is a key factor in the performance of these frameworks, yet this interaction is still poorly understood because of the growing complexity of applications and large shared data center infrastructures. My work in this area is a systematic study of the impact between the network and the end-to-end performance of DISC framework applications.
Publications, Posters, etc.