Contact Information
Max Planck Contact:
Michael J. Black, Prof. (Brown Univ), Dr.
Max Planck Institute for Intelligent Systems
Paul-Ehrlich-Str. 15
72076 Tübingen
Germany

Assistant: +49 07071 601-1800
Direct line: +49 7071 601-1801
FAX: +49 07071 601-1802
Email: black@tuebingen.mpg.de
http://is.mpg.de
Brown Contact: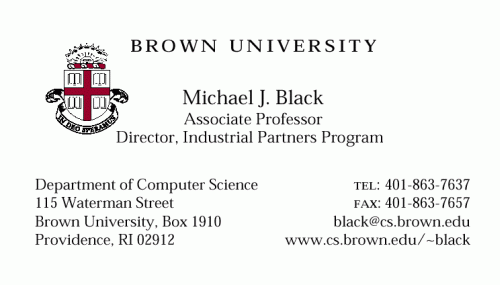 http://www.cs.brown.edu/people/black/

Street Address: (Use for FedEx, UPS, etc...)
Department of Computer Science
Brown University
115 Waterman Street, 4th Floor
Providence, RI 02912

Administrative assistant
Lori Agresti
401-863-7600
laa@cs.brown.edu
http://www.cs.brown.edu/people/laa/
Directions
Driving directions and maps.