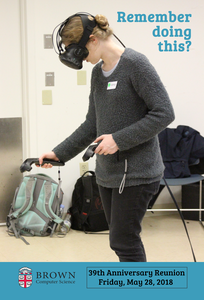 No later than April 15, please click here to RSVP.
5:30-8:00 PM on Friday, May 25, 2018
3rd and 4th Floors, 115 Waterman Street
Some of us remember using virtual reality headsets at Brown CS, and some of us just remember wishing for them to be invented. Wherever you fit in, please join us on the Friday of Commencement weekend! The reunion is open to all students, past and present, family, and friends. 
You can find directions here. If you have any questions, please email us or call 401-863-7600.