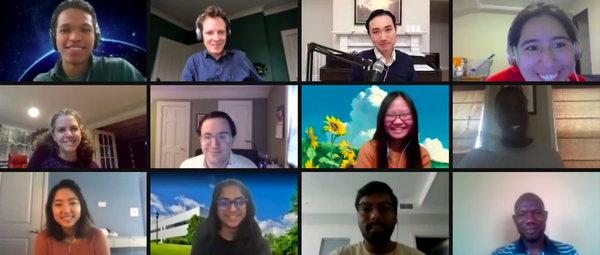 As a pilot effort, several Brown CS PhD students have put together an Application Feedback Program for Underrepresented Applicants. This is an attempt to help address the lack of diversity in existing Computer Science departments by increasing the visibility of useful application resources.  
In addition to the items below, it's often helpful to receive feedback and guidance in person from a mentor. Therefore, if you belong to an underrepresented group in Computer Science, we also provide mentorship to interested applicants. If you wish to receive feedback and guidance on your application, please fill in this form.
Interested applicants will receive guidance from current PhD students at Brown, either in the form of feedback on their application or a Zoom guidance session, whichever you choose. Participation in this program is completely optional, and is separate from the application process. While this does not guarantee admission, we hope that it will be a useful process for applicants. 
Resources
We've assembled a list of resources here to help shed some light on the graduate school application process. Below, we summarise and add pointers to existing resources and application guides, as well as provide some pointers and feedback of our own. 
CRA-WP graduate school resources: This page gives a list of resources for graduate school, put together by CRA-WP. The articles here cover advice about doing a PhD versus an MS, application guidance, as well advice on how to navigate your graduate school career once you have begun.
A compilation of existing resources: This post contains a comprehensive compilation of more than 30 different blog posts, books, and surveys done by faculty members and graduate students in Computer Science departments around the world. These go over both the application process and also graduate school experiences and advice on how to navigate your PhD.
Student perspectives on applying to PhD programs: This post contains advice and perspectives of PhD students who recently went through the application process, thus offering their views on how to navigate it. 
Faculty perspectives on the PhD application process: This post contains advice from a faculty member that offers insight on how your application will be evaluated by faculty and how to address the questions they might have.  
Faculty advice on emailing professors: This post contains advice from a faculty member that contains generally useful information about emailing a faculty member.
Applying Without Publications:  Many research guides will suggest that the key to a successful application is research experience and publications. Some students may not have access to research faculty and experiences, and so this guide touches briefly on how to write a good application, if you should find yourself in this scenario. 
Funding and Fellowships:  Graduate research fellowships can fund PhD students independently of the grant funding of their current or prospective advisors. This can make them more desirable candidates for prospective graduate programs and can give them more stabiliity in their PhD careers. Have a look at this guide to see a list of fellowships you might apply for. The guide also has useful tips on writing research statements. 
Initiatives At Other Organizations
Here are some initiatives taken by other organizations and CS departments at universities in the United States that might be helpful to you. It matters less where you get feedback from, as long as you have qualified mentors providing guidance on your application. Take any and every opportunity that you get to receive feedback, talk to people, and iterate on your research statement and application until the final day.
Institute for African-American Mentoring in Computing Sciences: iAAMCS provides mentorship to students in their aim to increase the number of African-Americans receiving PhD degrees in computing sciences. You can sign up and find more information on their website here.
Black in AI: This non-profit organization has been doing incredible work in paving the way for underrepresented groups. If you self-identify as Black, you can join the @blackinai google group to be a part of the mailing list, and can sign up to receive mentoring and feedback on graduate school applications. Please see this website for more information.
LatinX in AI: This non-profit organization aims to "...drive and support research, development, and infrastructure programs to boost innovation and capabilities of Latin Americans working in Artificial Intelligence." If you self-identify as LatinX you can reach out to the group and become a member of their community. They offer academic and professional resources for LatinX researchers, as well as hosting workshops at conferences. 
Women in ML: This organization aims to "...create opportunities for women to engage in substantive technical and professional conversations in a positive, supportive environment". Their mission is to ''support and promote all women in machine learning, regardless of nationality, ethnicity, race, religion, sexual orientation, or politics". If you self-identify as a woman, join their mailing list to connect with individuals.
CRA-WP: This organization aims to "provide mentoring and support for women, underrepresented minorities, and persons with disabilities at every level of the research pipeline: undergraduate students, graduate students, faculty, and government & industry researchers." Their webpage shows upcoming mentorship events and offers a variety of specific resource groups that students can join and participate in.
Queer in AI: "Queer In AI's mission is to make the AI/ML community one that welcomes, supports, and values queer scientists." They attempt to accomplish this by building a visible community of queer and ally AI/ML scientists through meetups, poster sessions, mentoring, and other initiatives. If you identify as part of this group, join the mailing list to be aware of resources available to you. They also offer a financial aid program to cover application fees on a first-come, first-serve basis.
Initiatives At Other CS Departments
Massachusetts Institute of Technology: For MIT's BCS PhD program, you can apply to be matched with a current PhD student at MIT and can choose your preferred mode of communication and the guidance you wish to receive. For MIT's EECS PhD program, you can apply to a student-run organization (GAAP) for the same. This is very similar to the system we have in place at Brown. Fill in this Google form from MIT to participate.
Stanford University: For Stanford's CS PhD program, you can submit your application to the Stanford CS department and a current PhD student will give you one round of feedback on it. Refer to this website for a submission link. 
University of Pennsylvania: For UPenn's CIS PhD program, a similar applicant support program will offer advice and feedback on your application. Fill in this Google form to participate in this program.
Carnegie Mellon University: For CMU's LTI program, you can get feedback on your application from graduate students by filling out this Google form.
University of Massachusetts at Amherst: For UMass Amherst's CICS program, you can get feedback on your application from graduate students via a link on their application instruction page.
University of Washington: For UW's CS program, you can get feedback on your application from graduate students from their Pre-Application Review Service (PARS) program via a link on their PhD application page.
University of Texas at Austin: UT Austin's CS department runs a Graduate Application Assistance Program that aims at providing PhD applicants with trustworthy feedback on their application material. Feedback is provided by graduate student volunteers.