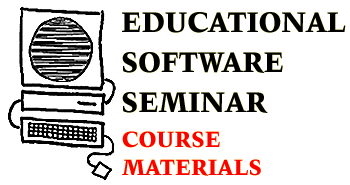 Spring 2001
The Project Pool | The Project Teams
---
The Frax!: Developed with Ellen Lynch and her Kindergarten class at Vartan Gregorian Fox Point Elementary School in Providence, this program is designed to teach a basic understanding of the concept of fractions to very young children whose first language is not English.

Recycling: Developed with Robin Meisner for an upcoming exhibit at the Providence Children's Museum, the software designed in this project will educate young children about the problem of trash, and given them an understanding that they can do something about the problem through reuse, recycling and reduced consumption.

Splash!: Working with Nancy Nowack, at the Nathan Bishop Middle School, and Janet Rankin & Brian Shelton at Brown, this group is developing software that will give students the opportunity to explore concepts of materials science and see the connection between these ideas and those they encounter in traditional science classes.

A Healthy and Safe Pregnancy: Developed with Dr. Joseph Hallett, in the Department of Pediatrics at Brown University, this project aims to create a program for use in local prenatal health clinics, helping young mothers and mothers-to-be learn and make informed decisions about their own health and the health of their children.