Citybuilder

WHAT: A math game that requires computation of surface area, perimeter, circumference and volume.
BY: Jon Boutelle, Jennifer Lewis and David Klaphaak.
FOR: Dan Corley at Community Preparatory School, Spring 1995.
SIZE:
---





---
INTENDED AUDIENCE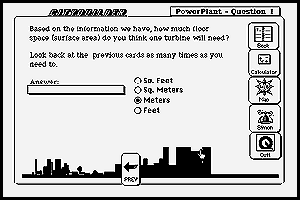 "Citybuilder" was developed for use by Dan Corley's Eighth Grade math Students at Community Preparatory School in Providence, Rhode Island. The software was developed for use by students who are already familiar with methods for computing surface area, perimiter, circumference and volume.

---
EDUCATIONAL GOALS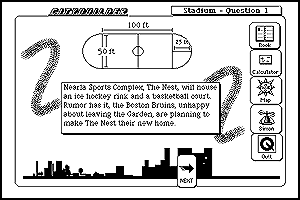 "Citybuilder" was designed in order to present a conceptual framework for exploration of basic mathematical formulas. Illustrated word problems review basic computational concepts, strategies for applying mathematical formulas, and correct units of measure. Students can access resource cards that contain formal explanations of the formulas used. Students navigate through a series of tasks as they participate in "building" a city on a fictional island.

NOTES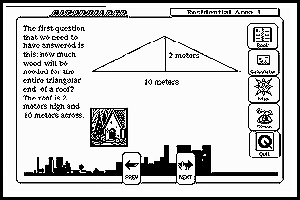 This program is intended to help students apply abstract concepts and to help them visualize word problems. It is not intended to teach the materials or to provide practice with arithmetic (a calculator is provided).


---