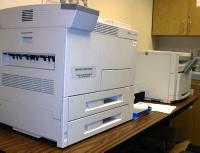 The department maintains several printers located in the CIT.
Department etiquette dictates that large printouts be queued early in the morning or late at night, unless it's an urgent need

Please read the 

Printer Use Policy

 to ensure you are making appropriate use of the department printers.

See the printing page for information how to print from unix, windows, and mac
The CS print server, printhost.cs.brown.edu, has the following printer queue names:
Printer
Queue
Name
Printer
Model
Room
Number
Capability
bw1
HP LaserJet P3015
143 - Sunlab
Double-sided B&W: Paper
bw2
HP Laserjet 8150DN
271 - TA room
Double-sided B&W: Paper, Letterhead
ccmb-bw2
HP Laserjet 1022N
244 - fishbowl
Single-sided B&W: Paper
bw3
HP LaserJet P4015 DN
350
Double-sided B&W: Paper
bw4
HP Laserjet P4015 DN
480
Double-sided B&W: Paper
bw5
HP LaserJet P4015 DN
548
Double-sided B&W: Paper, Letterhead
c3
HP Color LaserJet CP4025
350
Double-sided Color: Paper
c4
HP Color LaserJet CP4025
480
Double-sided Color: Paper
c4hq
HP Color LaserJet 4700DN
475
Double-sided Color: Paper
clf4hq
HP Color DesignJet Z5200
475
Single-sided Color: Coated Paper Roll
c5
HP Color LaserJet CP4025
548
Double-sided Color: Paper
More details
The B&W Laserjets are 24 page-per-minute high quality printers They are also ``duplex'' printers, providing two-sided printing. Duplex printing is the default, so to request single-sided printing use the instructions on the wiki page above.
The names in the first column are valid names for use with the -P option to the printer commands lpr(1), lpq(1), and lprm(1).
In Windows, the printers use the same naming scheme. By default, all of the department's printers appear in the "Printers" control panel.
Restrictions
The clf4hq print queue is a restricted print queue for faculty and graduate students only. The clf4hq printer is a large format printer capable of printing 42" width image. All print jobs are held by default on the clf4hq print queue. You must release the print job through the linux lp command (lp -i job-id -H resume) or clf4hq web interface using your LDAP credential.